Central Oklahoma

Chapter 63
CURRENT OFFICERS AND DIRECTORS:
QCWA CHAPTER #63 MEETING & LUNCHEON:

Greetings from Oklahoma, on January 23, 2016, at the Iron Skillet Resturant, Oklahoma City, 
we held our annual meeting and election of officers. We had 20 members and guests present, 
in July 2015 we had 19 members, now grown to 34 members. The chapter at one time had 140 
members, well before my time, kind of makes you wonder what happened?  Anyway the meeting 
was great, nice to met new Hams and old friends alike. Until next time, 47' and 73'
Sec/Treasurer Chapter 63, Howard WD5IDB

CHAPTER 63 ANNUAL MEETING PICTURES:
    
Please scroll down to near bottom of page for a picture of officers for 2016 
and pictures of some attendees at the Annual Meeting on Saturday, January 23, 2016, at 
the Iron Skillet.

JOIN QCWA CHAPTER 63:
Were you first licensed 25 or more years ago?  If so, we would like to invite you
to join the QCWA and Central Oklahoma Chapter 63. 
Link to Word Version of Application Form
Link to PDF Version of Application Form

If we really worked at it do you think we could get a new ribbon similar to the one 
below that Gene Nailon earned for us?

ANNOUNCEMENTS:

Chapter 63 dues for each year are due during January for all yearly pay members. These are 
separate from National QCWA dues. THE QCWA NATIONAL RULES DEEM THAT YOU CANNOT BE A MEMBER 
OF CHAPTER 63 UNLESS YOU BELONG TO NATIONAL FIRST. NATIONAL DUES MUST BE PAID DIRECTLY TO 
THE NATIONAL QCWA, NOT TO OUR CHAPTER. Go to www.qcwa.org then click button Join/Renew and 
follow the instructions to join or renew and to pay the required dues. PLEASE SEND EITHER 
$5 FOR YOUR YEARLY CHAPTER 63 DUES, MULTIPLES OF $5 FOR MULTIPLE YEARS, OR $100 FOR A 
LIFETIME CHAPTER MEMBERSHIP TO OUR SECRETARY/TREASURER: Howard O. Wise, Jr., WD5IDB
NETS:
QCWA W5AS Chapter 63 Memorial Net:
FREQ: 3.845 MHz +/- 2 KHz (LSB) Freq. chosen by Net Control
Every Sunday, 7:30 a.m. (Early Bird--5:45 a.m. or earlier)
The trustee is Howard, WD5IDB.
The Net Manager is Scott, K5PBJ.
Link to W5AS Monthly Report

K5DLE Memorial "Elmering" Net:
ATTENTION!!! Note new repeater frequency.
FREQ: 146.790 MHz, 100 Hz tone. (- offset)
Every Tuesday, 7:00 p.m.
The trustee is Skip, N5CFM.
The Net Manager is Mike, W5KSU.
Link to K5DLE Monthly Report
W5HXL Memorial Net:
ATTENTION!!!
Howard, WD5IDB, has volunteered to become Net Manager for the W5HXL Memorial Net 
starting at 7:00 p.m. local time on Thursday, October 1, 2015, and every Thursday 
thereafter.

FREQ: 146.790 MHz, 100 Hz tone. (- offset)
Every Thursday, 7:00 p.m.
The trustee is Lyeal, W5SJC.
The Net Manager is Howard, WD5IDB.
Link to W5HXL Monthly Report

COFFEES:
Saturday Morning Coffee:
Denny's Restaurant, 8:00 a.m., East of I-35 and SE 29th St., OKC
Weekday Morning Coffee:
McDonald's, 8:00 a.m., Monday through Friday, NW 39th St. and MacArthur Ave.,
Warr Acres
QRP Breakfast/Coffee:

Ingrid's Kitchen, 8:00 a.m., 4th Saturday of Month, 3701 N. Youngs, OKC (NW corner of
NW 36th St. and Youngs)
QCWA CHAPTER 63 CONSTITUTION & BY-LAWS:
Link to PDF Version of Constitution

PICTURES:
                                                         Officers for 2016


Right to Left: President Jerry Sams N5KNU, Vice President Don Kelly K5UOS, 
Sec/Treasurer Howard Wise WD5IDB, Director Ron Clinton WD5HUT, 
Director Oscar Staudt WB5GCX, Webmaster Lyeal Amos W5SJC, 
Not present: Director Bill Hoag K5URM, Director Scott Foster K5PBJ.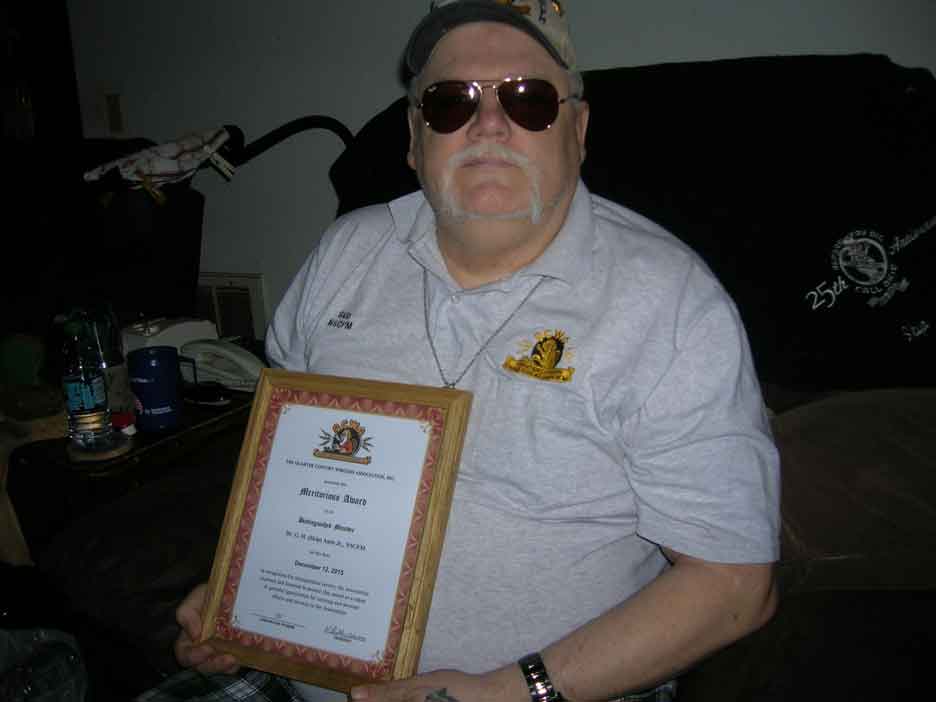 Pictured above is our Past President Dr. G.H. (Skip) Amis Jr., N5CFM, receiving Meritorious 
Service Award 2015, for his leadership and faithful service in various offices, in Central 
Oklahoma Chapter 63 for the past 10 years, thanks and GOD BLESS for your service.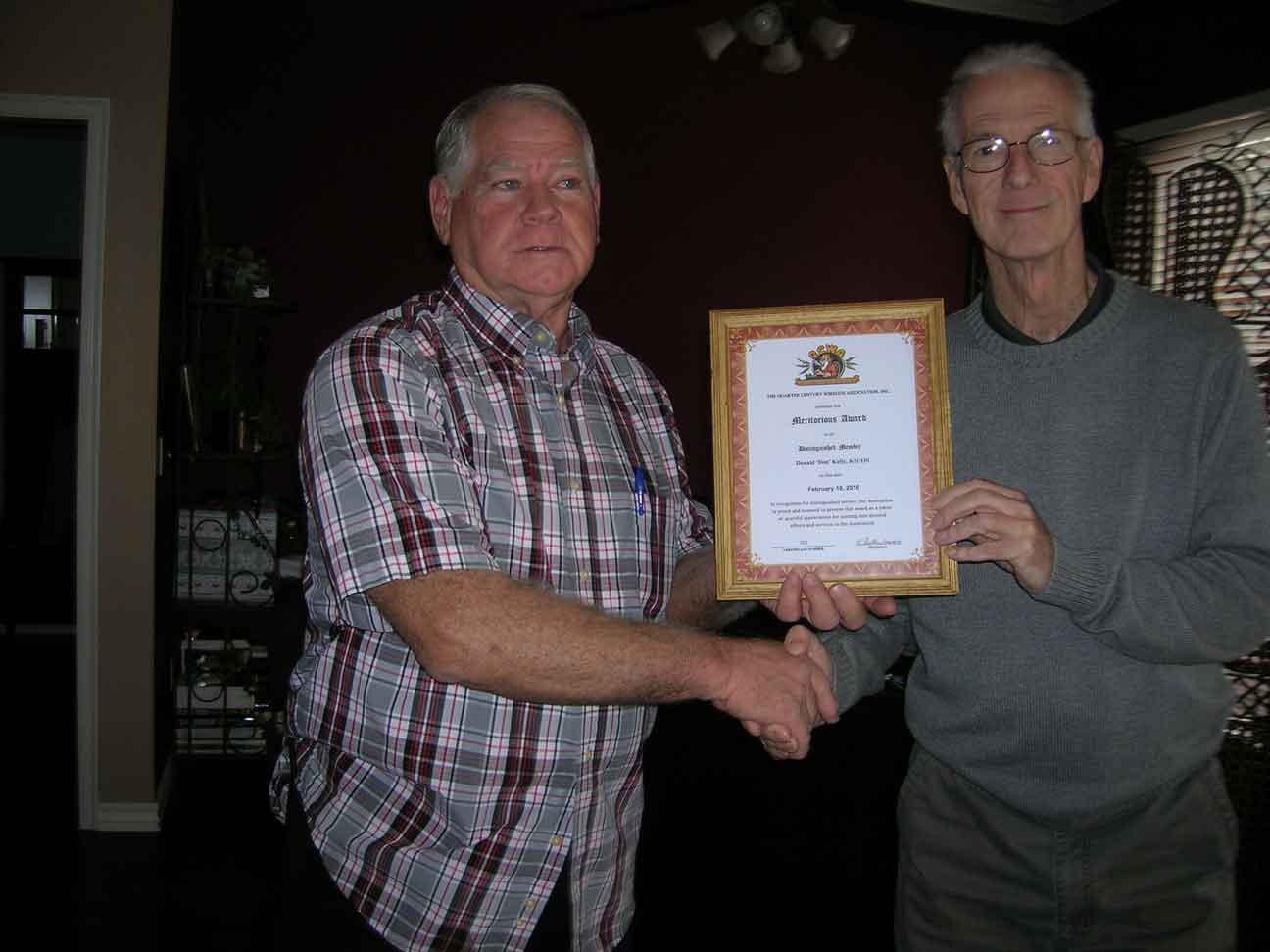 Vice President Don Kelly, K5UOS (right) receiving Meritorious Service Award, 2016, 
from Central Oklahoma Chapter 63 President Jerry Sams, N5KNU on February 21, 2016
 

Website updated March 3, 2016
MEMORIALS:

Link to Gene Nailon, K5DLE, Silent Key Memorial