Central Oklahoma

Chapter 63
CURRENT OFFICERS AND DIRECTORS:
QCWA CHAPTER 63 HAM HOLIDAY MEETING
We have obtained meeting space at the Ham Holiday Hamfest on July 27.  
It will be held at OCCC campus in SW OKC off May Ave.  
Our meeting will be in Room 1 at RESCHEDULED TIME 11:00 am to 11:50 am. 
We hope to have a good turnout as we have important club business 
to discuss.

CHAPTER 63 2019 ANNUAL MEETING PICTURES: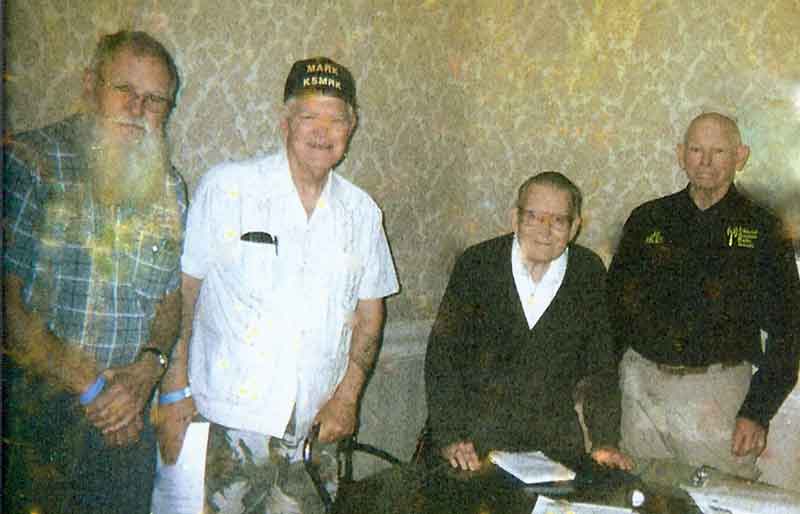 Left to right: Director Ron Clinton WD5HUT; Director Mark McGilvray K5MRK; 
Webmaster Lyeal Amos W5SJC; Vice President J. C. Nocker K5JCN 
Not present: Director Jerry Sams N5KNU; Director Roger Moore W5ZL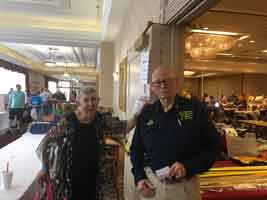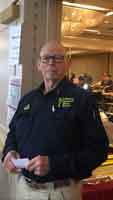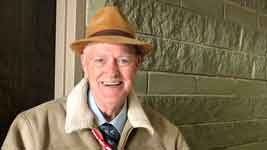 GREEN COUNTRY HAMFEST PICTURES, APRIL 12, 13, 2019
ENID HAMFEST PICTURES, NOVEMBER 3, 2018
JOIN QCWA CHAPTER 63:
Were you first licensed 25 or more years ago?  If so, we would like to invite you
to join the QCWA and Central Oklahoma Chapter 63. 
Link to Word Version of Application Form
Link to PDF Version of Application Form

If we really worked at it do you think we could get a new ribbon similar to the ones 
below that Gene Nailon earned for us?

ANNOUNCEMENTS:

Chapter 63 dues for each year are due during January for all yearly pay members. These are 
separate from National QCWA dues. THE QCWA NATIONAL RULES DEEM THAT YOU CANNOT BE A MEMBER 
OF CHAPTER 63 UNLESS YOU BELONG TO NATIONAL FIRST. NATIONAL DUES MUST BE PAID DIRECTLY TO 
THE NATIONAL QCWA, NOT TO OUR CHAPTER. Go to www.qcwa.org then click button Join/Renew and 
follow the instructions to join or renew and to pay the required dues. PLEASE SEND EITHER 
$5 FOR YOUR YEARLY CHAPTER 63 DUES, MULTIPLES OF $5 FOR MULTIPLE YEARS, OR $100 FOR A 
LIFETIME CHAPTER MEMBERSHIP TO OUR SECRETARY/TREASURER: OPEN; J. C. K5JCN TEMPORARY 1-20-2018
Howard O. Wise, Jr., WD5IDB, became a SK July 14, 2017.
NETS:
QCWA W5AS Chapter 63 Memorial Net:
FREQ: 3.9125 MHz +/- 2 KHz (LSB) Freq. chosen by Net Control
Every Sunday, 7:30 a.m. (Early Bird--6:30 a.m.)
The trustee is Mark, K5MRK.
The Net Manager is Mark, K5MRK.
Link to W5AS Monthly Report
K5DLE Memorial "Elmering" Net:
FREQ: 146.790 MHz, 100 Hz tone. (- offset)
Every Tuesday, 7:00 p.m.
The trustee is Skip, N5CFM.
The Net Manager is Mike, W5KSU.
Link to K5DLE Monthly Report
W5HXL Memorial Net:
FREQ: 146.790 MHz, 100 Hz tone. (- offset)
Every Thursday, 7:00 p.m.
The trustee is Lyeal, W5SJC.
The Net Manager is Lyeal, W5SJC.
Link to W5HXL Monthly Report

QCWA National CW Net
Wednesday, 7.035 MHz, 7:00 p.m. CST.  Dave Johnson, AD5MH (Chapter 63 member) 
and Rajah Grady, AG4HR, share Net Control.  Dave uses the QCWA call W2MM/5 and Raj 
uses W2MM/4. During the Winter months at 7:30 p.m. CST, the net moves to 3.535 MHz 
where Dave and Raj use their own calls.  About March or April the QSY to 80 meters is 
dropped and the net is only on 40 meters. The 20 meter net at 10:00 a.m. CST has been 
cancelled.
COFFEES:
Weekday Morning Coffee:
Changed to Whataburger, on NW 36th East of N. MacArthur Intersection, 
8:00 a.m., Monday through Friday, Warr Acres.
QRP Breakfast/Coffee:

The QRP Breakfast/Coffee, 4th Saturday of month, has been discontinued.
The OKC Lunch Bunch
The OKC Lunch Bunch (OKOL) is a group of friends interested in all aspects of amateur radio. 
We gather the 4th Friday of every month to share information, swap stories, ask questions, and 
generally enjoy good food while talking about our favorite activity - being a HAM.
We meet at Ingrid's Kitchen, 12:00 noon, 4th Friday of month, 3701 N. Youngs, OKC (NW corner 
of NW 36th St. and Youngs.)
Oklahoma Central VHF Club
Meetings Second Wednesday of each month at GOLDEN CORRAL (5702 NW Expressway, 
Oklahoma City, OK) 
Lunch:  11:00 a.m.
Meeting starts approx. 11:45 a.m.
 
Bring a friend and enjoy the food and fellowship!!
QCWA CHAPTER 63 CONSTITUTION & BY-LAWS:
Link to PDF Version of Constitution

PICTURES:
Website updated 
July 15, 2019
MEMORIALS:

Link to Gene Nailon, K5DLE, Silent Key Memorial